Skeptical? So were these people -
Until they tried the Read Without Glasses Method!
Now they see - and so can YOU!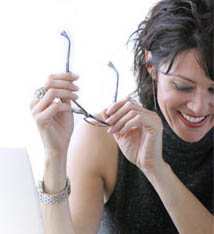 Amazed at Quick Response
"I watched the complete video and began practicing the first step. Yes, I am amazed, after a few practices, I could read the smallest print which totally blew me away, I couldn't believe "my eyes". Thanks again."
Cheryl D.
Orange Park CA
Amazing Results So Quickly
"I received and viewed the Read Without Glasses Method DVD...it's great! What amazing results so quickly.... I have always believed that glasses did not have to be a part of my life and you've given me the avenues to make that happen. Once again a great big thanks for the DVD and for your ingenuity for making this all happen!"
Pauline Signor
Cameron NC


All He Can Say Is "Wow!"
"All I can say is WOW! Seeing small words or numbers that were impossible to see before now, and not afraid to drive at night any more! I'm sharing all the great things that have happened to my eyes to co-workers and customers at work and now they want to try it. I feel good knowing that through you I can help people see better. And a personal thank you to the smart person who cared enough to make something that works for those in need! I think everyone can benefit. Thanks again!"

Curtis Bernier
Milwaukie OR

Reading the Newspaper - in 1 Day
"I used the Read Without Glasses Method for the first time on Thursday night. On Friday morning I was able to read the newspaper without glasses. I was amazed! I continued to test myself by reading business cards and vitamin bottles with small print. I was skeptical about this at first, but now I know that it really works."
R. Braunstein
New York
Amazing Customer Service and Support
"Thanks for taking the time to speak with me last week, it was very encouraging that you found the time personally to answer the questions I had regarding your read without glasses program, I have made the changes you suggested and I'm already getting improvements.Once again thank you it so refreshing to find a company willing to backup its product personally."
Stuart Crowther.
England.
55 and Still Surpising Eye Doctor
"I'm 55 and have been staving off the need for bifocals for 15 years with the Read Without Glasses Method. Last night, I was in the car and not able to see the small details on a map so I pulled out the wallet chart and worked for about 5 minutes and was then able to see everything on the map. I do the method most nights just before I go to sleep. When I'm in my optometrist's office waiting for my yearly eye check up I do the method. I love to hear the amazement in the eye doctor's voice that I still don't need bifocal contact lenses 15 years after he first told me I would."
Judy S.
Lafayette, IN
Amazing Results So Quickly
"I have been using the Read Without Glasses Method. I watched it several times and have done the exercises almost every day for the last couple of months for at least six minutes at a time. I could only read the largest print but now I can sometimes read the tiniest print at the bottom of the chart. I am writing this message without my glasses!I have been wearing glasses for reading since I was 48 - I'm now 62. My distance vision is excellent."
David Cornberg, Ph.D.
No More Drugstore Glasses
"I've been using the Read Without Glasses Method for approximately 30 days and my experience with this is very encouraging.. Before I started the method I was using drugstore readers for the most basic of newspapers and reading materials. Now I don't use them at all. I'm very pleased with the results and I'm actually more pleased with the response and support I've been getting calling your office."
Jim F.
Cleveland OH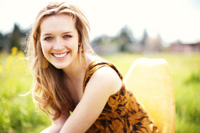 Amazing Results So Quickly
"I just bought your Read Without Glasses Method and immediately watched the DVD, and, of course, tried out the techniques. The next morning I discovered that I am able to read my e-mail without my reading glasses, and that's just from the first 5 minutes of effort! I plan to be reading the fine print soon!
10 DAYS LATER:
"I love your eye improvement system! I continue to read my e-mail without reading glasses, except for the occasional times when my eyes are really too tired to be looking at a computer screen anyway."
Mary Lou Jaeger
www.crazytraveltips.com
Sees Much Better in Dim Light
"I watched the video, tried it, and obtained immediate results, although the improvement wasn't as dramatic as Christine's in the video. But then my eyes are still in pretty good shape. It is only when reading for extended periods, especially in darker environments, that I experience eye strain.
Nevertheless, the Read Without Glasses Method did help the very first time I tried it out. I try to use the method twice a day, but if that is impossible I use it at least once a day.
The most significant improvement I've noticed so far is that I see much better in dimmer light. That has been my main concern. I'd never worn glasses before and had always been a voracious reader, but in the last year or so I''d been having some problems reading small print, especially in dim light. (I should mention that I'm 45 years old, soon to be 46.) You can imagine that the prospect of wearing glasses, in order not to cut down on my reading, didn't exactly fill me with joy.
Every once in while (say once in 3 or 4 days), when getting a very clear stereoscopic image while looking at the chart, the letters become extraordinarily clear and, thus, easy to read. I'm now down to the smallest print."
Tony Schikula
Kyoto Japan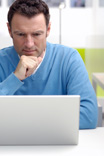 Challenges the Eye Doctor - and Wins!
"I became interested in the Read Without Glasses Method last year at the age of 41. It had become more difficult to read fine print such as that in the phone book, etc.
My ophthalmologist informed me that most people my age develop what is called presbyopia, an impairment of the ability to see clearly at near distances, and that it could be remedied quite easily with a inexpensive pair of reading glasses. I had heard about exercises for the eyes and asked her about them. She stated that they do not work and that I would need reading glasses for the rest of my life, with stronger and stronger strength as I continued to age.
I took her advice as somewhat of a challenge and sought out the Read Without Glasses Method. Admittedly I was skeptical, even after speaking with Martin Sussman of the Cambridge Institute for Better Vision. There seemed to be little in the way of scientific research to back up his claims, only testimonials of other satisfied customers.
I decided to take the plunge and do a little experimentation on my own. The shipment arrived promptly and I began to do the simple exercises for only about 5 minutes a day.
Remarkably within about two weeks I noticed that the onset of my presbyopia had been nearly completely reversed! Several months out I only do the exercises once or twice a week to maintain nearly perfect vision at close distances. Put quite simply the exercises work. I have encouraged Mr. Sussman to have his program studied independently to verify these positive results as I believe once they are scientifically verified many more people will benefit from this remarkable product. Thanks!"
Gregory Laco
Houston, TX
Gets Her Freedom - and Her Vision - Back
"When I was 47, I started to realize that I had problems reading in certain lights. I also had problems to see the hole in order to thread a needle, but since I didn't do it very often, I ignored that.
I was travelling back to the States and spoke to some friends. They laughed at me and said that I needed to get reading glasses. I went to the optician while there and found out that I had a weak eye and he prescribed reading glasses (1.25). This was good for me because I could easily read and thread needles. The only problem is that I had to have glasses with me constantly.
It never occurred to me that I could do something so simple and affective for my eyes. Also typical, but the doctors just tell you to wear glasses instead of prescribing some exercises or something natural that I could do.
I followed the instructions and noted immediately during the first session that I could start reading smaller print without glasses. I was excited. I also liked that I only needed to find 6 minutes a day to do the exercises.
The Read Without Glasses Mthod has given me freedom! I was so frustrated that I need glasses. I had to have 2 pairs or else look like an old lady with them hanging around my neck.
By doing the exercises, I could read the ingredients on cans in the grocery store. I could read maps without fishing around for glasses. I can quickly and easily thread a needle.
I found wearing reading glasses to be such a nuisance and sometimes it would even give me headaches.
Reading without glasses is youthful and I like that I can read whatever I want whenever I want without doing anything that calls attention to my age.
The changes were immediate for me. As long as I exercise my eyes fairly regularly, meaning a couple of times a week for 5 or so minutes, I can maintain the great eyesight. If I let time go by, then I notice that the sight decreases. Again it is like with any other muscle. They need to be used and toned.
After looking at the DVD, I wanted to take the strain off my eyes. The improvement was immediate. I didn't force myself to read something without glasses and found that I could indeed read smaller things more clearly than I could before.
There are many ways to look at the value one receives from this small investment. It doesn't matter if someone buys the cheap reading glasses from Wal-Mart to the fancy designer labels at the optician, there is of course a savings in buying the DVD. Particularly since everyone I know that starts wearing reading glasses, they have to keep getting stronger and stronger prescriptions, so the investment goes on.
The greatest value to me is being able to reverse one very clear sign of aging.
For example I remember my husband needing a quick direction while driving. Since I don't need glasses anymore, I can, as in my younger years, quickly glance at the map and tell him what to do.
I highly recommend the Read Without Glasses Method to anyone that wants the freedom of reading anything at any time without searching for glasses.
Susan Bagyura
Professional Business Coach
www.bluedanubecoaching.com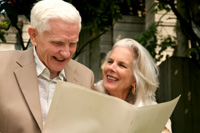 If At First You Don't Suceed...
"I bought the Read Without Glasses Method about 6 months ago. Initially I could not get results that the lady patient in the video reported, so I put the product aside, and was rather disappointed.
I suspected that was due my left eye which I think you would call "lazy".
But I continued doing the eye-stretching exercises from your Program for Better Vision, as well as adding chrome, copper and manganese to my existing daily dietary supplements (Vitamins C, E, B complex, Magnesium, Calcium, Selenium, Zinc, Omega-3), as the Program recommends.
I just re-tried the Read Without Glasses Method this weekend and I could get all the effects reported on the video!
When driving into work this morning, just after a session, I could see all the texture in the tarmac on the road in front of me, which was a new experience! I can read this type on the computer without glasses, although it does still swim in and out of focus (previously it just stayed out of focus).
So I shall definitely persevere with the sessions using the chart.
When I first visited an optician 10 years ago at the age of 46, a test to track a moving light showed much more scatter in my left eye. Three years ago when my optician moved me from 1.5 diopters to 2.5 diopters reading, and prescribed glasses for long vision, she told me that my eyes were moving apart. When I started the eye-stretching 12 months ago, I felt a lot of resistance in the top left quadrant, often moving me to tears, but I persevered. Last summer, I could do very well in the sunlight without glasses, but when I came into a dark office, I could feel my left eye suddenly moving outwards, although it recovered as I became more dark-adapted. The exercises from your Program for Better Vision allowed me to throw away my long-distance glasses last summer, and to switch back to 1.5 dioptres for reading, or 1.0 dioptres when not tired, or in good light.
I thought you might want to know how my initial complete failure with the Read Without Glasses Method has now turned to very encouraging success.
I continue to recommend your very good products to all my interested friends."
John Brown
Northamptonshire England

Now He Has All the Tools He Needs
"Dr. Gottlieb's and Mr. Sussman's program is everything that I hoped that it would be: a simple, straightforward, and portable program that would augment my routine of yoga eye exercises.
I am 65 1/2 years of age, and even though I routinely exercise and "feed" my eyes, I also place great demands upon them through reading; excessive vibration and G forces and limiting oxygen from vehicles; lack of rest; low-light and glare conditions; and lengthy session on a computer.
Just exercising was not enough. Now I have the tools to help maintain the functionality of two of my most important body parts: my two eyes. (Of course, I have to limit and remove as much of the abuse as I can.)
P.S. My Mary has Glaucoma: and my sister has Macular Degeneration: looking into natural methods of treatment is how I found you. Now, that I have experienced your demeanor and approach, as well as the effectiveness of your methods, I have the confidence to pursue your suggestion relative to both afflictions."
Peter DonKonics
Conway NH
A Very Remarkable Breakthrough
"My eyes had steadily been getting worse for many years. My daughter would always tease me as I would misread things on the computer and often need her to help me make out a word. She told me I just had to get glasses, as did my girlfriend, and they both felt that I was being a bit vain to hold out. I am 52.
I just felt that there must be a better solution than the whole world in glasses as we age. I knew about Lasik and things like that, but I also did enough research to know that there were to me still far too many risks...many unreported......And even if they brought the risks down...do you really want to be part of the percentage that then has to live with those potential complications for the rest of your life? My eyes were too important for that.
Anyway, I had held out as long as I could, but I noticed that my vision was steadily getting worse. It wasn't just affecting me when reading. It was now a problem even watching TV. It looked like it was time for glasses and I started research into different lenses, frames, etc...My girlfriend and daughter were elated.
But before I made the final leap to glasses, I got the Read Without Glasses Method as it was recommended highly by people I respected, and I felt I had little to lose.
Within a few days I could see an improvement. Within a week or two, I was actually able to have moments where I could read the finest print on the chart. Not always for a long time, but even for brief moments and it gave me great confidence that the eyes could regain much of their capability to see more clearly.
It has been close to a year and I now only do the exercises every once in a while as my vision not only stopped getting worse, but has remarkably improved. I can read the finest print and as I roll on to 53, I cannot help but wonder at what point, if ever, I will need those glasses!
I can't imagine how they ever figured out this method, but I'm just glad they did as it worked for me with very little effort...I mean I only did it for around 5-8 minutes a day and now when I do it, it's just for five minutes here and there. A very remarkable breakthrough, if you ask me!
I truly wonder how old I will be before I need glasses.....if ever!....."
Craig Wolfe
San Rafael CA
WOW Is the Operative Word!
"WOW, is the operative word. I have been doing the exercises for approximately 1 week and already am seeing a difference with my near vision.
I am spending from 10-15 min. per day on the method.
The charts are magnificently constructed to work the muscles needed to improve close vision. I am a believer and am passing on your course information to others.
I'm 45 years old. Reading glasses were +2.0 and I've needed them for about a year now. I have noticed more and more degradation in my near vision and was looking for something to help besides glasses.
I saw your course info and thought, "hmm, I exercise my body muscles to keep them fit, why not my eyes???" So I tried it. Glad I did!
The course is gradually strengthening my eyes and I can tell daily that I can read print I haven't been able to over the last year. I'm looking forward to more progress.
No refund requested here!
Thank you!"
Vince Holt
Cried When She Could See
"At 48, I needed my 1.00 reading glasses for everything - from dialing the phone to putting on lipstick to being able to see my children's faces at the dinner table! YOUR program restored all of the above! ... I cried when I walked around the house and looked at everything I couldn't see before. This absolutely works!
Upon receiving the Read Without Glasses Method, my husband and I eagerly watched your excellent, relaxing video which gave us both the hope of improving our near vision. My husband (age 47) had perfect far vision all his life and about two years ago he got reading glasses 2.75, which he was always reaching for to read anything.
He did your program only a couple of times a day for about two weeks and starting using my 1.00 glasses and now he doesn't need them at all! I'm jealous of him, he still will do this with me every now and then to keep his eyes sharp. His face lit up like I've never seen when he could read with no aid.
Myself (age 48), on the other hand, am less quick to improve. I underwent Laser eye surgery a couple of months ago, after having of lifetime of miserable glasses and contacts used for far vision. I believe I took for granted my near vision, which had just started to regress a bit this year.
As happy as I was to see far, I was sickened to lose my near. I was forewarned I would need a reading glass but I thought it would be just that, for reading and close work. I want to list some of the things I had LOST the ability to see clearly and needed my 1.00 reading glasses for:
My computer screen and keyboard
Dialing the telephone numbers
My car dashboard numbers
My dinner plate, and centerpiece
My chilrens faces at the dinner table!
The dishsoap label while doing dishes
Chopping vegetables clearly
Seeing myself in the mirror but none of my toiletry labels in the bathroom
Being able to see calculator numbers
Putting lipstick on in my compact mirror
I felt lost without able to see these things. YOUR program restored the above list!!!!! I am so grateful.
As you can imagine I am overjoyed to say the least, that I have this sight back in only two weeks. I am religious about doing your program I do it 5 or 6 times a day at least for 6 minutes of more at a time, I find my sight is the best right after I do the program and need to redo it to keep the vision. I also find that the last session of the day is the best.
I cried when I walked around the house and looked at everything I couldn't see before. This absolutely works! My daughter (age 13) just got glasses to see far and she is asking me what she can do to see better. Is she too young to use your other program for nearsightedness?
To think I was looking up that CK procedure on the Internet when I came across your website. Thank you!"
Marylinda Thompson
Astonished With Results!
"About a month ago I started using the Read Without Glasses Method. Since then I've been practicing the exercises and to my absolute astonishment, they are working incredibly well.

I am a 51 year old man and for the last 15 years I have found myself becoming more and more short sighted, to the point where I needed not only glasses for reading, but another set of glasses for looking at my PC screen and another set of glasses for seeing long distance.

Having practised the Method for the last few weeks, not only has my short distance vision improved to almost the point it was at when I was 25 years old, but my long distance vision has improved too!

I am amazed and delighted and I would like to express my gratitude in the strongest possible terms. I thought that the deterioration in my vision was unavoidable, but it seems that this is not the case after all!
Gustav West
Frankfurt Germany

Both Near and Far Vision Improve
"With the Read Without Glasses Method I went from 20/200 to 20/50 on my near vision.
I am 54 years old and have used your Advanced Program for Better Vision the last two years and have gone from 20/80 to 20/40 in distant vision.
Smiling Helps His Sight!
"After two weeks of practice several times each day, I am now able to read through the first three rows. When I do the second exercise with the chart up close to my eyes and "look through" the black circle, I find it helps to focus if I smile with my eyes. Smiling relaxes my eyes. I'll smile more often. I am able to read more and more without reading glasses. Thank you for a great system."
Tom Roach

WOW!
"All I can say is WOW! Seeing small words or numbers that were impossible to see before now, and not afraid to drive at night any more! I'm sharing all the great things that have happened to my eyes to co-workers and customers at work and now they want to try it. I feel good knowing that through you I can help people see better. And a personal thank you to the smart person who cared enough to make something that works for those in need! I think everyone can benefit. Thanks again!

Curtis Bernier
Milwuakie OR