Want to know more before you try the Read Without Glasses Method?
LISTEN TO THIS RIGHT NOW FOR FREE!
Get The Amazing Story Behind the
Read Without Glasses MethodTM
Dr. Ray Gottlieb reveals:
How I Stumbled Upon the Read Without Glasses Method
My First Success
The 150-Year-Old Science Behind the Method
Why Your Age Doesn't Control Your Eyesight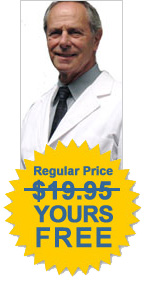 "Hi! I'm Dr. Gottlieb and I'm eager to show you how to sharpen your close-up vision and get rid of those annoying reading glasses. Listen to my in-depth presentation and you'll probably say the same thing that thousands of others have, "I want the Read Without Glasses Method to work wonders on my eyes!"
"Just fill in your name and email address and in moments you'll receive an email that tells you how to listen to my presentation right away."
We absolutely respect your privacy. We will never rent, trade or sell your information to any other party. You can unsubscribe at any time.